Diversity- Creating a more accessible and flexible environment for all students
Manoir des Sables, 90 ave. des Jardins, Orford QC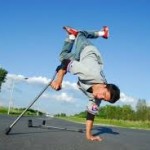 The Centre of Excellence for the Physically, Intellectually, and Multi-Challenged was pleased to present our 11th Symposium entitled Diversity — Creating a more accessible environment for all students on April 11, 2014.
In light of teachers' needs and today's classroom challenges, we invited speakers to share their expertise concerning Universal Design for Learning.  These workshops aimed to promote efficient and innovative practices that meet the learning needs of the greatest number and diversity of students.
This year's Symposium was launched by our keynote speaker, Luca "LazyLegz" Patuelli, a world renowned dancer from Montreal, who was born with Arthrogryposis (multiplex congenita), a condition that affects bone structure, muscle growth, and causes limited joint movement. Never slowing down, Luca has competed in some of the world's biggest dancing events, and has been featured on many international programs and networks, such as America's Got Talent, Much Music, and NBC's Today Show. As a motivational speaker, he inspires and teaches his audience that "life is all about positive attitude." Founder and one of five members of the international break-dancing group Ill-Abilities, he shares his passion with kids with disabilities around the world.
As Luca opened our hearts, the presenters of the workshops opened our minds to the possibilities of inclusivity in the classroom. Covering a wide range of topics and approaches, there was the opportunity to explore the application of Universal Design for Learning (UDL), as well as the use of iPad apps, Smart Boards and Smart technology and NFB animation techniques. Other workshops focused on developing vocabulary to promote language skills, on understanding a child's feelings and the concept of attachment and on dealing with the questions arising from Internet safety.
Here is a list of all the workshops that were offered:
SMART BOARDS in your Universal Design for Learning Toolkit
with Alex Dunn, Speech-Language Pathologist, Upper Canada District School Board
Cultivating Creativity in the Classroom with Apps that Support Universal Design for Learning
with Andrea Prupas, B. Ed, M.A., ALDI Coordinator
Heart Matters: What to do with a child's feelings
with Eva de Gosztonyi, Psychologist, Coordinator, Centre of Excellence for Behaviour Management, RSB
Building a Rich Vocabulary: The importance of enhancing vocabulary development to promote language and literacy skills – best practices and useful strategies
with Carol Jazzar, M.Sc. (S-LP) Coordinator, Centre of Excellence for Speech and Language Development, EMSB
Smart Inclusion: Centering on student success
with Alex Dunn, Speech-Language Pathologist, Upper Canada District School Board
Teaching iPad Animation in the Classroom using NFB StopMo Studio
with Anne Koizumi & Fouad Sassi, filmmakers, NFB
What is Universal Design for Learning?
with Tanja Beck, Access Services Advisor & Frederic Fovet, Director, Office for Students with Disabilities, McGill University
Internet Safety for Students
with Terry Cutler, co-founder of Digital Locksmiths, Inc
We would like to thank all our presenters for their generosity in sharing their expertise and time with everyone. We look forward to seeing you all again in 2016!