Symposium 2012
People to People
"Reaching Out to Our Special Needs Students"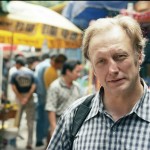 MR. IAN BROWN          KEY NOTE SPEAKER
An acclaimed Canadian Journalist with the Globe and Mail and author of The Boy in the Moon: A Father's Search for his Disabled Son; awarded three of Canada's most prestigious literary awards: Charles Taylor Prize, the Trillium Book Award, British Columbia National Award for Canadian Non-Fiction.
Mr. Ian Brown gave a presentation on the topic of the The Boy in the Moon: A Father's Search for his Disabled Son. The Boy in the Moon is a candid memoir about Mr. Brown's son Walker, who was diagnosed with Cardiofaciocutaneous (CFC) Syndrome, an extremely rare genetic mutation.  At age fifteen, Walker is mentally and developmentally between one and three years old and will need constant care for the rest of his life. Ian's story follows his experiences of raising, loving, and trying to understand his son and the discovery of a profound meaning in that spiritual adventure.
The following topics were presented:
PCI READING PROGRAM
Ms. Celina Bérubé, Consultant for Special Needs, Lester B Pearson School Board, Qc
The PCI Reading program is a new tool being introduced into several of our elementary and high schools. It is designed to help nonreaders become successful readers.  Students learn high frequency and real-world words through hands-on practice and repetition. This hands-on workshop provided participants with background information on the PCI Reading Program as well as step-by-step instruction and practice.  Ways to implement the program in an inclusive classroom or resource room was also examined.
THE IMPORTANCE OF VOCABULARY DEVELOPMENT FOR STUDENTS WITH LANGUAGE BASED LEARNING DIFFICULTIES
Ms. Carol Jazzar, M. Sc. Speech and Language Pathologist & Coordinator, Centre of Excellence for
Speech and Language. English Montreal School Board, Qc
In this session, the importance of vocabulary development was addressed and teachers were given strategies to help build their students vocabulary and oral language skills. A variety of specific and fun activities were presented.
 
INTRODUCTION TO THE IPAD AND ITS APPLICATIONS (APPS) TO SUPPORT LEARNING FOR THE SPECIAL NEEDS STUDENT
Mr. Dale Mackenzie, Information Communication Technology Consultant.  Eastern Townships School Board, Qc
Participants were introduced to the I PAD and were guided through the applications (APPS) available that support the education of special needs students.
MENTAL RETARDATION / MENTAL ILLNESS: DUAL DIAGNOSIS
Dr. Helen Cumming Cvejic, MD.  Assistant Professor of Psychiatry, McGill University. Director of Out patient Child Psychiatry Clinic Douglas Hospital, Qc
In this workshop, Dr. Cvejic addressed the Assessment of Psychiatric Illness in the Mentally Retarded Population including:  1.  The Types of Disorders, 2.  The Risk Factors involved 3.  The Individual Psychiatric Assessment of the Child as part of the Family, School, and Community system.
FRUSTRATION – WHERE DOES IT COME FROM?  HOW CAN WE HELP CHILDREN MANAGE IT?
Ms. Martine Demers, M. Spec. Ed.  Behavior Consultant.  Riverside School Board, Qc
How do your students manage their frustrations? When things don't work out for them, when they don't get what they want… Aargh!  Stepping-in to help them take up a relationship with their frustrations is one of the best interventions of a teacher/educator. Frustrations can become overwhelming, it is important to understand how this can lead to aggressive behaviour.
TEACHING MATH TO INDIVIDUALS WITH COGNITIVE DISABILITIES
Ms. DeAnna Horstmeier Ph. D. Interdisciplinary doctorate in Speech and Language, Special Education and Child Development. She has been a faculty member of the Ohio State University and Consultant for the Sate of Ohio.  More importantly, she is the parent of a young adult with Down syndrome who keeps her "real".
Would you like your students to be able to do arithmetic? Even more, would you like your students to be able to use money, tell time, use fractions, shop, bake, budget and all the other everyday tasks that involve numbers?  It is possible if parents and teachers work together to incorporate some principles of good teaching and a variety of hands-on experiences. Author of the book TEACHING MATH to people with Down Syndrome and other Hands-On Learners: Basic Survival Skills. Book 1 & 2, Ms. Horstmeier gave an overview of her books and many practical suggestions of classroom techniques. She is presently working on a book of how to teach older (10 years and older) students to read – those who have not been successful with general class instruction. She gave a brief introduction and answered questions on reading.
CREATING SOCIAL SUCCESS TOOLS FOR STUDENTS WITH AN AUTISM SPECTRUM DISORDER
Ms. Jovette Francoeur, Consultant for Special Needs.  Centre of Excellence in Autism Spectrum. &
Ms. Helene Packman, M. Sc. Speech and Language Pathologist. Lester B Pearson School Board, Qc
This workshop provided participants with hands-on experience creating tools to assist students with social communication difficulties. Strategies such as Social Stories™, consequence maps and social behavior mapping were discussed. Participants were given the opportunity to explore, create, share and leave with materials.
SUPPORTING THE DEVELOPMENT OF POSITIVE SEXUALITY
Ms. Josée Roy, B.A., M.A. Sexology. Full time Faculty Teacher in Special Care Counselling at Vanier College, since 1997. In addition to teaching, she works as a private consultant for individuals presenting ASD or an intellectual impairment.  She develops programs to address needs in the area of sexuality.  She also gives conferences to parents and professionals on the sexuality of individuals with developmental disability.  Prior to working at Vanier College, she worked in a school for children on the autism spectrum.
Sexuality is part of everyone's life and the students with a developmental disability will experience the same desires. The difficulty for these students is their lack of knowledge about both the norms and facts. As educators and teachers we are confronted with behaviours that may seem inappropriate but which are actually reflecting a way of meeting their needs. In this workshop Ms. Roy addressed how to understand sexual behaviours and how to intervene in the case of inappropriate behaviours.  In addition, there was a discussion on how to empower these students by providing sex education so they may then understand the norms.